Overview
CHCD series are LED Digital Display PID Temperature Controllers including five size:
CHCD100 (48mm*48mm)(width*height)
CHCD400 (48mm*96mm)(width*height)
CHCD401 (96mm*48mm)(width*height)
CHCD700 (72mm*72mm)(width*height)
CHCD900 (96mm*96mm)(width*height)
Main Features
Internal digital correction system for input. Support thermocouple, RTD or linear signal input. Max accuracy 0.01.
Adopting advanced PI artificial intelligence algorithms, without overshoot. The controller is provided with automatic regulation function.
Adopting humanized designed operation, easy to learn and easy to use.
Allow users to modify the authority of all parameters, including check and amend.
Be applicable with universal AC 85~265V or DC 24V power supply. And have a variety of dimensions for the customer to choose.
High accuracy, Easy operation
CHCD900 PID Temperature controller
Fuzzy control with PID auto adaption. Adapting intelligent PID control arithmetic without overshoot.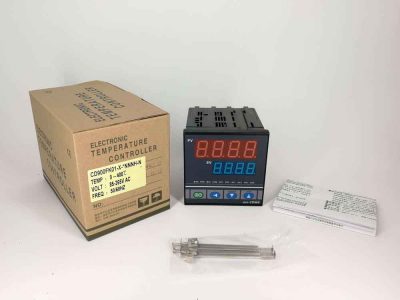 Power Supply:
85~265V AC    50/60HZ
or 24V AC / 24V DC
Thermocouple (K, S, R, E, J, T, N)
RTD (Cu50, Pt100)
Analog signals (0-50mV, 10-50mV, 0-5V DC, 0-10V DC, 1-5V DC, 2-10V DC, 4-20mA, 0-20mA, 0-10mA)
N- None
L- Relay
G- SSR drive/voltage pulse
V- 0~10V DC
I- 4~20mA
K- SCR zero-cross
M-Modbus protocol
Body: 96*96*100 mm
Cutout size: 92×92 mm
Mounting Method: Flush-mounting and screw terminals
Temperature Units: Degree Celsius          (<1700℃)
Display Accuracy: ±0.3%F.S                   0.1℃ (<1000℃); 1℃ (≥1000℃)
Temperature Compensation: 0~50℃
Storage Temperature: -20~60℃             (no icy or condensation)
Data Storage: 10 years
Mounting Method: Flush-mounting and screw terminals
Environmental Conditions: -20~60℃         (no icy or condensation)
Humidity: 35-85% RH
Net Weight: about 200g
Gross Weight: 350g
1 x CHCD900 temperature controller
1 x Mounting bracket
1 x Manual