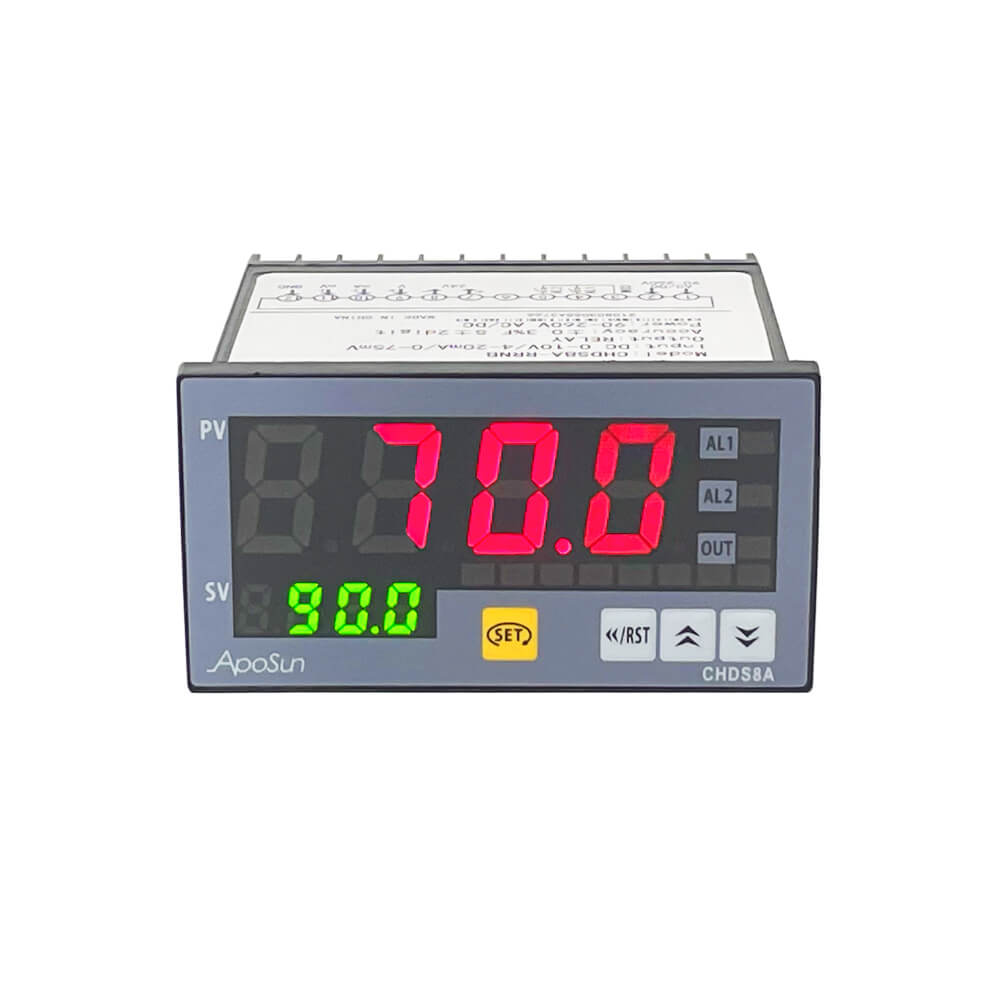 CHDS8A
LED Display 1/8 DIN Analog Panel Digital Process Meter
Digital process meter is a a cost-effective solution for process signals such as 4-20mA, 0-10V, or 0-75mV which require zero and span adjustment for monitoring and process control application.  Process solutions tailed for optimal plant performance. We partner with you to provide the optimal industrial process solutions for unlocking the highest levels of performance of your plant.
Overview
CHDS8A series digital process panel meters/controllers have scalable readout & control outputs for process signals such as 4-20mA.
Loop powered process indicators require no power supply and can be universally used in current measuring circuits. They can be easily installed in intrinsically safe applications.
Field instruments designed to control automation processes for applications as:
Use with any 4-20mA output sensor where there is a process to measure and control
Metals and mining
Water and waste water
Oil and gas
Power
Chemicals
Pulp and paper
Main Features
The display is available with red & green LEDs
The 1/8 Din case meets NEMA 4X(IP65) specifications from the front when panel mounted
The universal inputs enable the connection of current, voltage, RTDs and TCs, resistance
Scaling is from -1,999 to 9,999(4 digits) with any decimal point to display readings in engineering units, such as PSI
An isolated 12V or 24V DC isolated excitation output
Sampling speed: 6~8times/sec.
Powered from 85~265V AC or optionally from 24V DC
Process indicators with control function (limit value monitoring, mathematics, differential pressure and linearization,…)
Process indicators for panel mounting as well as for field mounting
Simple menu and easy wiring, user-friendly
Process Indicator & Control Unit
 For All Industries
Excellent price/performance ratio
Fast, simple and comfortable commissioning and operation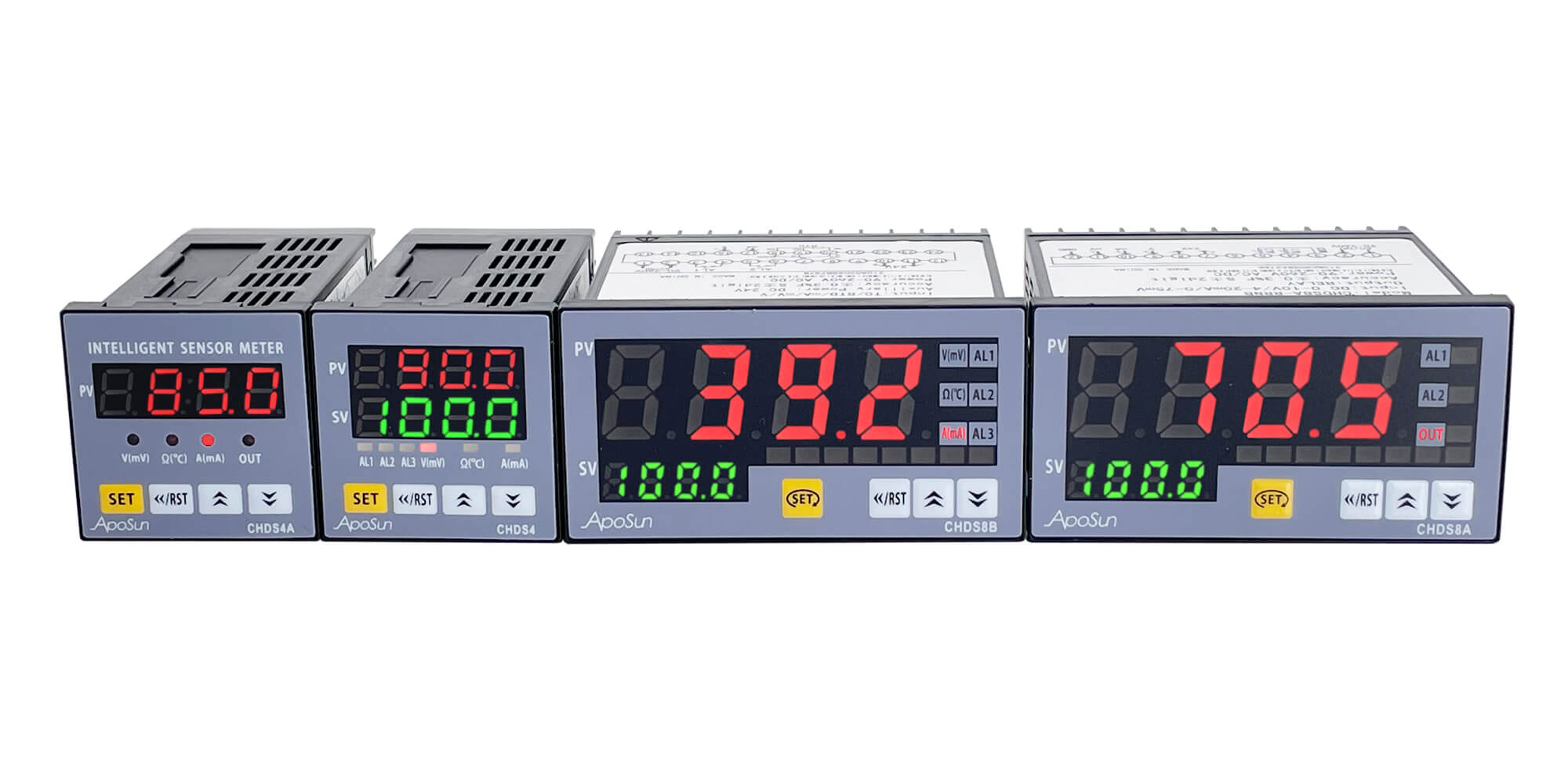 | Function | CHDS | | | — | | | | | | | | |
| --- | --- | --- | --- | --- | --- | --- | --- | --- | --- | --- | --- | --- |
| Dimension | | 8A | | | | | | | | | | 96W*48H mm |
| | | 4 | | | | | | | | | | 48W*48H mm |
| Power Supply | | | Blank | | | | | | | | | 85-265V AC/DC |
| | | | E | | | | | | | | | 24V DC |
| Analog Output | | | | | I | | | | | | | 4-20mA |
| | | | | | D | | | | | | | 0-20mA |
| Alarm 1(AL1) | | | | | | R | | | | | | Relay |
| | | | | | | S | | | | | | SSR |
| | | | | | | N | | | | | | none |
| Alarm 2(AL2) | | | | | | | R | | | | | Relay |
| | | | | | | | S | | | | | SSR |
| | | | | | | | N | | | | | none |
| Alarm 3(AL3) | | | | | | | | R | | | | Relay |
| | | | | | | | | S | | | | SSR |
| | | | | | | | | Blank | | | | none |
| Aux. Power | | | | | | | | | | A | | 12V DC/30mA |
| | | | | | | | | | | B | | 24V DC/30mA |
| Input Signal | | | | | | | | | | | Blank | 4-20mA, 0-10V, 0-75mV |
| | | | | | | | | | | | F | Other signals please indicate |
Power Supply Voltage:
85~265V AC    50/60HZ
or 24V AC / 24V DC
Aux Power Voltage:
12VDC    24V DC
Current: 0-5A, 0-2A AC/DC ; 0-1mA, 0-10mA, 4-20mA;
Voltage: 0-5V, 0-10V, 0-500V; 0-10mV, ±100mV
Rt: 0-400Ω, 0-10KΩ; Cu50, Cu100(-50~150℃); PT100
TC: K, J, E, T, B, R, S;
Body: 48x96x80mm
Front Panel: DIN 96mm(W)X48mm(L)
Cutout size: 45x92mm
Mounting Method: Flush-mounting and screw terminals
Environmental Conditions: 0~50℃         (no icy or condensation)
Humidity: 35-85% RH
Net Weight: about 300g
Gross Weight: 380g
1 x CHCD8A Digital process meter
​​​2 x Mounting brackets
​1 x Manual