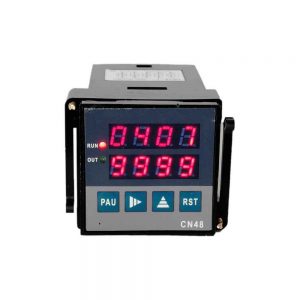 CHCN48
Multifunction Digital Relay (Functions: timer, counter, frequency counter and tachometer)
All in one new powerful Aposun panel meter! Integrated both counter and timer functions, allowing flexible operation depending on application requirements.
Up to 2 relay outputs for on-off control. Wire connection & pin connection for choice.
Overview
Is CHCN48 a…Timer?
Yes! Single delay timer. Dual delay timer. Totalize delay timer!
Is CHCN48 a…Counter?
Yes! 8-digit count up / count down / multiplying displayed!
Is CHCN48 a…HZ/Tacho meter?
Yes! 4-digit HZ or Tacho meter with relay output!
Main Features
LED Digital Relay  (Functions: timer, counter, frequency counter, and tachometer)r
Only 48mm*48mm, 1/16 DIN size is available at this moment
Dual display, 4 digits 7 segments LED display
1% F.S measuring accuracy
Maximum 2 alarms
Power supply: 85~265V AC Aux power: 12V DC
Input voltage pulse: Low level(-30V~0.5V); High level(4V~30V)
Ambient Temp: 0~40℃
Measuring frequency: 2~10khz
Contact capacity: 5A for NO contact, 3A for NC contact at 220V AC
Users can switch among counter, timer, frequency, and tacho modes for flexible applications depending on requirements.
More powerful and flexible product
CHCN48 is a multi-functional controller 
Up to 32 functions for you to choose!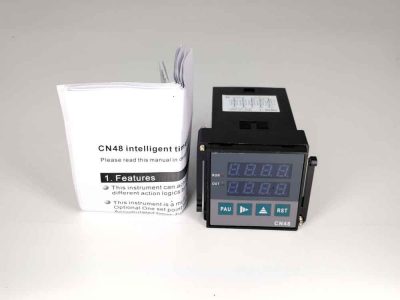 Code of Function
Code

 

Description
 Setting range
Code

 

Description
 Setting range
Code

 

Description
 Setting range
Timer function
01
Single delay timer (count up)
0.01s~99.99s
09
Single delay timer (count up)
1m~99h59m
17
Dual delays timer (count up)
1m~9999m
02
Single delay timer (count down)
0.01s~99.99s
10
Single delay timer (count down)
1m~99h59m
18
Dual delays timer (count down)
1m~9999m
03
Single delay timer (count up)
1m~9999m
11
Dual delays timer  (count up)
1m~99h59m
19
8-digit accumulated timer (Instant reset)
0~99H59M59.99S
04
Single delay timer (count down)
1m~9999m
12
Dual delays timer  (count down)
1m~99h59m
20
8-digit accumulated timer ( reset after 8s)
0~99H59M59.99S
05
Single delay timer (count up)
1s~9999s
13
Dual delays timer  (count up)
1s~99m59s
21
8-digit accumulated timer (Instant reset)
0~9999H59M59S
06
Single delay timer (count down)
1s~9999s
14
Dual delays timer  (count down)
1s~99m59s

22

8-digit accumulated timer ( reset after 8s)
0~9999H59M59S
07
Single delay timer (count up)
1s~99m59s
15
Dual delays timer (count up)
1s~9999s
23
8-digit accumulated timer (Instant reset)
0~9999D23H59M
08
Single delay timer (count down)
1s~99m59s
16
Dual delays timer (count down)
1s~9999s
24
8-digit accumulated timer ( reset after 8s)
0~9999D23H59M
Frequency/Tacho function
25
Frequency meter
1Hz~9999Hz
26
Frequency meter
1.0Hz~999.9Hz
27
Tachometer
60-9999rpm
28
Frequency/Tachometer
0~9999

Counter function

29
Up/down counter
0-9999
30
Up/down counter     with ratio
0~9999
31
8-digit up/down counter
0~99999999
32
8-digit up/down counter with ratio
0~99999999

 

 
Power Supply Voltage:
85~265V AC    50/60HZ
Aux. Power Voltage:
N-no aux power                                            D-12V DC grounded                                  C-12V DC isolated
Voltage input (PNP) / no-voltage input (NPN) type
Voltage pulse range:                                  low level(-30V~0.5V)                                 high level(4V~30V)
N- None
R- Relay
F- others
Body: 48x89x48 mm
Front Panel: 48 mm(W)X96 mm(H)
Cutout size: 45×92 mm
Mounting Method: Flush-mounting and screw terminals
Mounting Method: Flush-mounting and screw terminals
Environmental Conditions: 0~40℃                        (no icy or condensation)
Humidity: 35-85% RH
Storage Temperature: -20~60℃             (no icy or condensation)
Data Storage: 10 years
Net Weight: about 140g
Gross Weight: 300g
1 x CHCN48 Counter Timer Frequency meter
​​​1 x Mounting bracket
​1 x Manual