Overview
CHDH is a type of true RMS measurement amp/volt indicator. It's a good tool to monitor the current/voltage for your equipment.
1 input, any AC/DC current & voltage
Relay output & Analog output available
3 dimensions for choice
Panel-mounted
Main Features
AC/DC true RMS measurement
Dimension: 48*48mm(CHDH4), 48*96mm(CHDH8), 96*96mm(CHDH9)
Power supply: 85~265V AC  Consumption: <5VA
Current range: 0-10mA, 0-20mA, 0-100mA, 0-2A, 0-5A, 0-20A
Voltage range: 0-100V AC/DC, 0-600V AC/DC
Power supply: 85~265V AC 45~65Hz
Ambient environment: -10~55℃  5%-95%RH  no condensing
Accuracy: 0.3%
Utility, industrial and commercial metering
Substation, building and factory automation
More powerful and flexible product
4 buttons operation, user-friendly
CT/PT input, True RMS measurement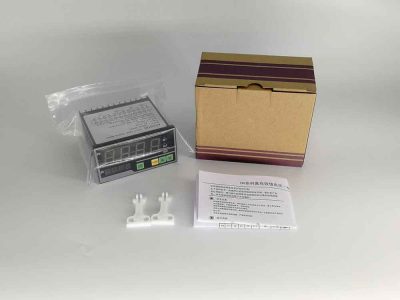 Model
CHDH
—
AC DC Amp Voltage Panel Meter
Note
Size
4
48W×96H×84Lmm
8
96W×48H×84Lmm
9
96W×96H×84Lmm
Power supply
default
85-265V AC / 80-300V DC
E
24V DC
Analog output
default
None
I
4-20mA
V
0-10V DC
AL1
R
Relay
S
SSR
N
None
AL2
R
Relay
S
SSR
N
None
Measure range
AV
0-600V AC
1 input only, indicate range
AA
0-5A AC
DV
0-600V DC
DA
0-75mV DC
85~265V AC    50/60HZ
Consumption: <5VA
Rated voltage: AV 600V, AV 100V ;   DV 20V, DV 100V, DV 300V, PTs etc..
Rated current: AA 5A, AA 20A, AA 50A, AA100A, AA 200A, CTs; DA 200A. 0-75mV shunt, etc..
(please indicate when ordering)
Normal open collector
Capacity: 250V 3A AC or 30V 3A DC, COS∅=1
3 sizes for choice: 48*48(1/16 din), 48*96(1/8din),96*96(1/4 din)
Wiring: screw terminal at backside
Mounting: panle mounted
1 x CHDH Amp/volt meter
​​​2 x Mounting brackets
​1 x Manual