Overview
CHCMF802 can use as ?
1. Preset scale counter
2. Length counter
3. Tacho / Line speed meter
4. Batch counter (batch set value; set values in batches)
5. Dual channel counter (A, B input signal):
Under mode E –input A is positive count, input B is minus count
Under mode F –both input A and B are positive counts
Main Features
LED digital preset Counter / Length counter / Tachometer / Batch counter / dual channel counter /position transducer counter
72mm * 72mm size
Dual display, 6 digits 7 segments LED display
1%F.S measuring accuracy
Maximum 2 alarms
Power supply: 85~265V AC Aux power: 12VDC
Input voltage pulse: low level(-30V~0.5V); high level(4V~30V)
Ambient Temp: 0~40℃
Measuring frequency: 1~3Khz
Contact capacity: 5A for NO contact, 3A for NC contact at 220A AC
Up to 7 functions selectable (different functions with different setting ranges)
All in one creative product
CHCMF802 is a multifunctional pulse controller 
7 in 1, one product offers you 7 flexible solutions!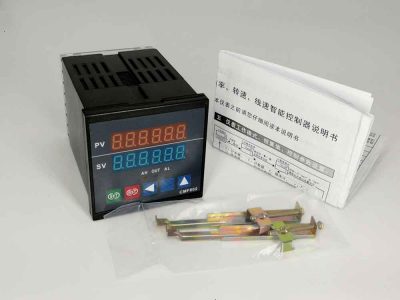 Power Supply Voltage:
85~265V AC    50/60HZ
Aux. Power Voltage:
N-no aux power                                               D-12V DC grounded                                    C-12V DC isolated
Body: 72x72x90 mm
Front Panel: 72 mm(W)X72 mm(H)
Cutout size: 68×68 mm
Mounting Method: Flush-mounting and screw terminals
Voltage pulse range:                                     low level(-30V~0.5V)                                   high level(4V~30V)
N- None
R- Relay
F- others
Batch counter / Batch meter:
Batch output value set "0~999999" (when number rise to batch set value, batches value +1)
Batches output value set in "0~999999" (when batches number rise to set value then relay action)
Shift counter / Shift meter (A,B input signal):
Mode E means input A is positive count, input B is minus count
Mode F means both input A and B are positive count
Up to 3 count mode functions selectable
Counter (count up / count down)
Counter input (contact signal, photoelectric, proximity sensor, encoder)
Counter with multiply displayed
6-digit up / down counter
4 available logic relay action
1.Tachometer
2.Line-speed meter
2 available logic relay action
Analog output: 0-20mA, 4-20mA
Input 1~5Khz
Storage Temperature: -20~60℃             (no icy or condensation)
Data Storage: 10 years
Mounting Method: Flush-mounting and screw terminals
Environmental Conditions: -20~60℃         (no icy or condensation)
Humidity: 35-85% RH
Net Weight: about 300g
Gross Weight: 400g
1 x CHCMF802 Counter / Tacho meter
1 x Mounting bracket
1 x Manual