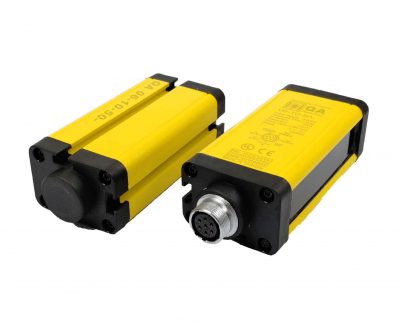 QA06/10-50 AA
NPN/PNP output Protect finger sensor / Infrared safety light curtain
Safety Light curtains are supplied as a pair with a transmitter and receiver. The transmitter projects an array of parallel infrared light beams to the receiver which consists of a number of photoelectric cells. When an object breaks one or more of the beams a stop signal is sent to the guarded equipment.
Overview
Self-check function: when the safety light screen protector fails, it will not send the wrong signal to the controlled electrical appliances

Strong anti-interference ability: light curtain has good anti-interference ability to electromagnetic signal, strobe light, welding arc light, and surrounding light source

Convenient installation and debugging, simple wiring, modern appearance

Surface mount technology is adopted for superior shockproof performance

It is designed and manufactured according to the European standard and has passed the CE certification

Short response time (≤20ms), high safety and reliability

Exquisite shape design, width, and thickness of the only 35×50.8mm, effectively reduce the installation space

The light curtain is connected with the cable through the air socket, which can be installed, unloaded and wired accurately, quickly and simply
Main features
Technical parameter: 06 beam
Distance: 10mm
Protection height: 50mm
Voltage: DC 12~24V
Output: NPN NC
Induction distance: 0.3~3m
Install
If the transmitter and receiver are mounted directly on the machine tool body through the fixing clamp, then it is generally applicable to the frame structure of the closed type press.
To ensure the safety distance when installing the machine into the wall, choose the correct installation position as per the common fixing clip size when drilling and tapping. When drill and positioning, attention should be paid to the transmitter and receiver to ensure parallel to each other.
The transmitter and receiver are installed in the same way, through a side slot and type T screws with external fixed together respectively, with connector socket end or transmission wire end down.
Fix the transmitter and receiver to ensure it is parallel to each other, then fasten the screws.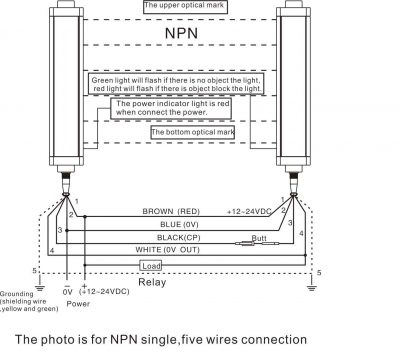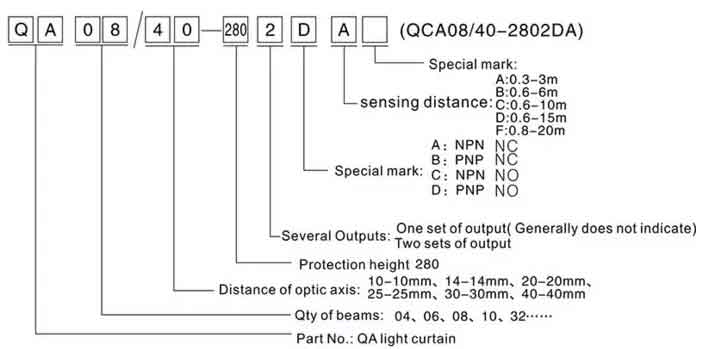 Period of Sampling: ≤15ms
Resistance to environmental light: incandescent light: light-receiving surface illumination 3000LX; sunlight: light-receiving surface illumination 10000LX
Environmental temperature: Working state -10~40℃ (but not freezing), Storage state -25~55 ℃
Humidity: Working state: 35~85%RH, Storage state: 35~95%RH
Net Weight: about 5Kg
Gross Weight: 5.5Kg​
1 × Receiver
1 × Transmitter
1 × Data wires
1 ×  A pack of side-mounted screw
1 × A bag of a rectangular frame
1 × A bag of card slot screw
Package type: carton box, size 300×60×45mm