Overview
CHD7002 series digital 3 phase Modbus power energy meter is suitable for power distribution cabinet & switchgear under low-voltage power distribution system(<35KV). The network management will finally realize automation control via RS485 communication. The powerful functions are as below:
Specially for 380V~35kV voltage level's industry and commercial building
Supports a wide range of phases and wire systems– 3P3W, 3P4W.
Field Configurable 5A/1A CT Input
Full real-time data measurement & True RMS monitoring
Demand statistics function–average current, total power, total reactive power, total apparent power.
50th harmonic analysis, THD, THDu, THDi
Time-of-use( Multi-tariff billing), historical data of 31 days and 12 months
Record historical energy for latest 31 days, latest 12 months, latest 50 usage records
Setpoint alarm for over/under the limit
Build-in MODBUS-RTU via RS485 port
High accuracy, Active energy: GB/T17215.322-2008, class 0.5s
Main Features
Backlit LCD type Power  Energy meter
Dimension: 72×72×80 mm
Power supply: 85~265V AC, 45~65Hz, Consumption: <5VA
Measure range:  0-30,000A, 0-28.8/50KV
Ambient environment: -10~55℃  5%-95%RH  no condensing
Accuracy: 0.2 for current/voltage  1 for reactive KWH
Display of harmonics by order to 2~50st
Maximum demand can be measured over preset periods of up to 60minutes
2 sets of counting modes: Summertime/Wintertime mode, Workday/Weekend mode, 4 tariffs with 8 segments
With 2 DI and  4 DO function, can be used for remote monitoring and control.
One group of 4-20mA analog output
Built-in MODBUS RTU & DL645-2007 protocol via RS485 port
Built-in clock
Widely used in Power Distribution Automation, Electric Switch Gear and Control Panels, Industry Automation, Building Automation, Energy Management Systems, Marine Applications, Renewable Energy.
Smart Electricity Meter
True RMS measurement & Multi-tariffs
Cost-effective & Reduce consumption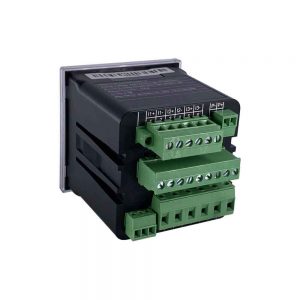 Model
CHD7002
—
3 Phase LCD Power and Energy Meter  (72*72*80mm size)
Function mode
default
Display function + RS485
E
Display function + RS485+2 none-contact inputs + 2 relay outputs
Expand function
H
Harmonic function
A0
4-20mA
Power supply
default
85~265V AC/80~300VDC
E
24~48V DC
Measure range
V1
3×57.7/100V 1A
V2
3×57.7/100V 5A
V3
3×220/380V 1A
V4
3×220/380V 5A
Power Supply:
85~265V AC    45~65HZ
Consumption: <5VA
Rated voltage: 220V / 380V / 100V PT
Rated current: 1A / 5A / CT
Overload: voltage: 1.2 times(sustained); current: 1.2 times(sustained), 10 times/1second
3 phase 3 wire type
3 phase 4 wire type
No-contact switch input, 2 no.s
Relay alarm output, 2 no.s
Pulse constant output, 1 no.s
4-20mA analog output, 1 no.s(optional)
Electrical Parameters
Parameters
Range
Accuracy

Voltage
10V ~ 288V(Quadratic value)
2%
Current
5% ~ Max
2%
Power factor
-1 ~ 1
5%
Active energy
0 ~ 99999999.9
0.5S
Reactive energy
0 ~ 99999999.9
Grade 2
Active power
Single-phase: 0 ~ ±100 MW/var/VA

Total: 0 ~ ±100 MW/var/VA

 0.5%
Reactive power
 1.0%
 Consumption
≤ 2W/4VA
Environment condition
Normal work temperature
-10℃ ~ +45℃
Extreme work temperature
-25℃ ~ +55℃
Storage temperature
-25℃ ~ +70℃
Work humidity
5%~ 95%%no condensing
Insulation performance
Withstand voltage
2000VAC
Surge voltage
6000V
Insulation resistance
≥ 100MΩ
2 modes(Summertime/winter time, weekday/weekend mode 1, weekday/weekend mode 2.) tariffs.
Provides up to 4 different tariffs( sharp, peak, valley and normal) to 8 different time periods within a day according to the billing requirements.
The meter will calculate and accumulate energy to different tariffs according to the meter's internal clock timing.
Record historical energy as below:
Daily freezing for latest 31 day
Monthly freezing for latest 12 months
Contact freezing for the current day within 24 hours, min resolution: 15 munites
Time freezing for the last 2 hours yesterday
Voltage deviation
Rotal harmonic distortion(THD)
Voltage/Current harmonic percentages
Demand time setting: 5/10/15/20/30 munites
Max monthly demand for the latest 12 months will be recorded.
Clear max demand function available
RS485 communication interface
standard MODBUS RTU protocol/ DL645 protocol configurable
5 speeds: 2400, 4800, 9600(factory default), 19200, 38400bps
Body: 72x72x80mm
Cutout size: 70x70mm
Mounting Method: Flush-mounting and screw terminals
IP grade: IP52 for the panel, IP20 for the whole item
1 x CHD7002 3 phase multifunction power meter
4 x Mounting brackets
1 x Manual