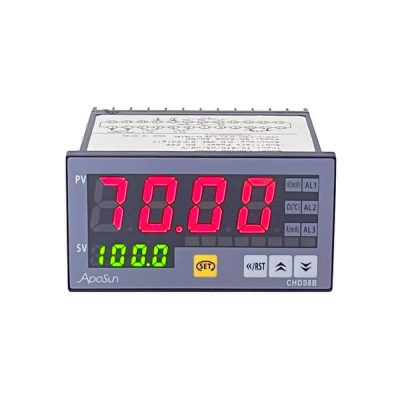 CHDS8B
LED Digital Display Multi-Functional Programmable Process Panel Meter
CHDS8B series is the cost-effective and high-performance tool for the display and control of the signals such as 4-20mA, 0-10V, 0-75mV, TC/RTD, Load cell, resistance. It is widely used in many industrial applications in temperature, pressure, weight, resistance, current and voltage. 
Overview
What does CHDS8B universal process panel meter work for?
Current meter
Voltage meter
Temperature controller
Pressure meter
Load cell/Weight meter
Resistance meter
Level indicator
Main Features
Large inch 4 digits LED display
User selectable inputs: A, mA, V, mV, TC(K,J,E,S,R,T,D)/RTD( PT100), 0-400Ω
Relay/SSR Drive output
Max 1 analog and 4 alarm outputs to meet up to user's application
Power supply: 85~265V AC or 24V AC/DC
RS485/RS232(MODBUS RTU) communication support optional
Simple menu and easy wiring, user-friendly
Environment: 0-50℃ / <85%RH (non-corrosive no-dew)
Multi-function device, Easy to work!
CHDS8B Multi-functional Sensor Panel Indicator
Industrial Design, Smart Solution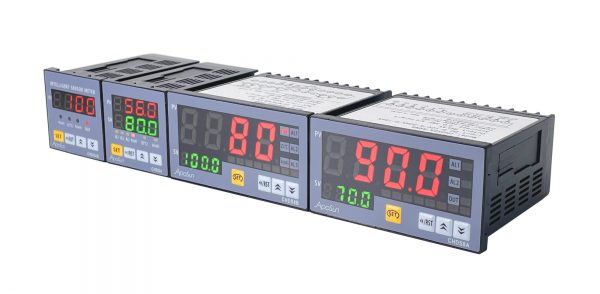 | Function | CHDS | | | — | | | | | | | |
| --- | --- | --- | --- | --- | --- | --- | --- | --- | --- | --- | --- |
| Dimension | | 8B | | | | | | | | | 96W*48H mm |
| Power Supply | | | Blank | | | | | | | | 85-265V AC/DC |
| | | | E | | | | | | | | 24V DC |
| Analog Output | | | | | I | | | | | | 4-20mA |
| | | | | | D | | | | | | 0-20mA |
| Alarm 1(AL1) | | | | | | R | | | | | Relay |
| | | | | | | S | | | | | SSR |
| | | | | | | N | | | | | none |
| Alarm 2(AL2) | | | | | | | R | | | | Relay |
| | | | | | | | S | | | | SSR |
| | | | | | | | N | | | | none |
| Alarm 3(AL3) | | | | | | | | R | | | Relay |
| | | | | | | | | S | | | SSR |
| | | | | | | | | Blank | | | none |
| Communication | | | | | | | | | 4 | | RS485 |
| | | | | | | | | | 2 | | RS232 |
| | | | | | | | | | Blank | | none |
| Aux. Power | | | | | | | | | | A | 12V DC |
| | | | | | | | | | | B | 24V DC |
Power Supply Voltage:
85~265V AC    50/60HZ
or 24V AC / 24V DC
Aux Power Voltage:
12VDC    24V DC
Current: 0-5A, 0-2A AC/DC ; 0-1mA, 0-10mA, 4-20mA;
Voltage: 0-5V, 0-10V, 0-500V; 0-10mV, ±100mV
Rt: 0-400Ω, 0-10KΩ; Cu50, Cu100(-50~150℃); PT100
TC: K, J, E, T, B, R, S;
Body: 48x96x80mm
Front Panel: DIN 96mm(W)X48mm(L)
Cutout size: 45x92mm
Mounting Method: Flush-mounting and screw terminals
Environmental Conditions: 0~50℃         (no icy or condensation)
Humidity: 35-85% RH
Net Weight: about 300g
Gross Weight: 380g
1 x CHCD8B Universal Process Panel meter
​​​2 x Mounting brackets
​1 x Manual