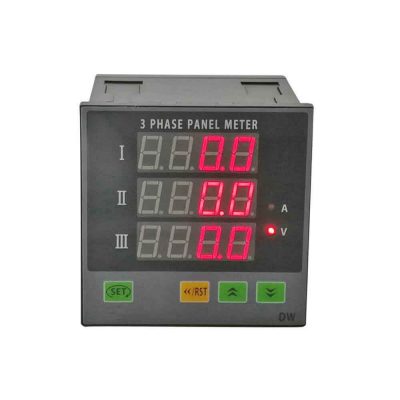 CHDW93
3 Phase LED Ammeter Voltage Panel Meter
3 phase digital Ammeter Voltage Panel meter is for AC current voltage measurement in 3-phase system. 
Widely applied in substation automation systems, power distribution automation systems, smart distributors, switch cabinets. intelligent building, machinery and equipment.
Overview
CHDW93 3 phase LED amp volt panel meter is used for both single and 3 phase current/voltage monitoring. It has powerful functions as below:
LED DIGITAL TUBE DISPLAY: Three rows of 4-bit bright red LEDs simultaneously display three-phase current or voltage values, which are intuitive and clear.
TRUE RMS MEASUREMENT: Adopting true RMS measurement, high precision, good stability, transformer multiplex rate can be set on-site through the instrument button, easy to use and flexible.
CT/PT RATE: the multiplex rate of transformer can be set on the spot by the instrument button, which is convenient and flexible to use.
DISPLAY FUNCTION: no output or communication function, for monitoring usage only.
Main Features
LED 3 Phase Digital Electrical Ammeter Voltmeter Panel Meter
Dimension: 96×96×84 mm
Power supply: 85~265V AC  45~65Hz, Consumption: <5VA; or 380V AC
Digital display: three row, 4 bits, high brightness LED digital tube
Direct measuring range: 0-600V / 0-5A
CT,PT input
Ambient environment: -10~55℃  5%-95%RH; no condensing
Utility, industrial and commercial metering
Substation, building and factory automation
More powerful and flexible product
4 buttons operation, user-friendly
CT/PT input, RMS ampere voltage measurement
| Commodity name | Model no. | Measure range | Accuracy | Dimension | Holing size |
| --- | --- | --- | --- | --- | --- |
| 3 phase voltage meter | CHDW93-AV600 | 0-600V AC | ±0.4% display value ±0.1%F.S | 96×96×85mm | 91+0.5×91+0.5×84mm |
| 3 phase ampere meter | CHDW93-AA5 | 0-5A AC | ±0.3% display value ±0.1%F.S | 96×96×85mm | 91+0.5×91+0.5×84mm |
Power Supply:
85~265V AC    45~65HZ
Consumption: <5VA
Rated voltage: 600V AC / PT
Rated current: 5A AC / CT
Overload: voltage: 1.2 times(sustained); current: 1.2 times(sustained), 10 times/1second
1 x CHDW93 3 Phase LED Ammeter Voltage Panel Meter
2 x Mounting brackets
1 x Manual