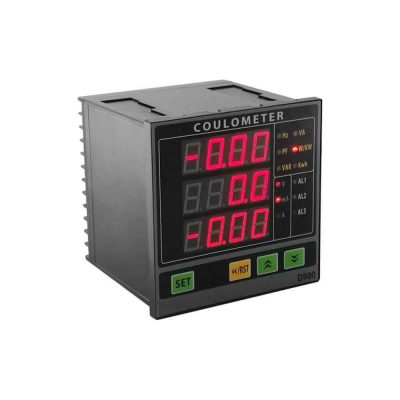 CHD900
Single Phase Electrical Ampere Voltage Frequency Power Energy Meter Coulometer
True RMS measurement for current, voltage, power, power factor, frequency, KWH, reactive power in single phase system.
Widely applied in energy management systems, substation automation systems, power distribution automation systems, smart distributors, switch cabinets, intelligent building, machinery and equipment.
Overview
CHD900 single phase electric ampere voltage frequency power meter coulometer is applicated for preset AC or DC current voltage range.
SINGLE PHASE MEASUREMENT: 3 phase measurement item is CHD9000, CHD9001.
LED DIGITAL TUBE DISPLAY: Three rows of 4-bit bright red LEDs simultaneously display three-phase current or voltage values or other parameters, which are intuitive and clear.
TRUE RMS MEASUREMENT: Adopting true RMS measurement, high precision, good stability, transformer multiplex rate can be set on-site through the instrument button, easy to use and flexible.
CT/PT RATE: the multiplex rate of transformer can be set on the spot by the instrument button, which is convenient and flexible to use.
Main Features
LED Single Phase Multifunctional Power Meter
Dimension: 96×96×84 mm
Power supply: 85~265V AC  45~65Hz, Consumption: <5VA or 18-30V DC
Direct measuring range: 0-600V, 0-5A
CT,PT input
Analog output: 4-20mA / 0-10mA
1~2 alarm outputs
RS485 communication interface, standard MODBUS protocol
Ambient environment: -10~55℃  5%-95%RH  no condensing
More powerful and flexible product
4 buttons operation, user-friendly
CT/PT input, True RMS measuring coulometer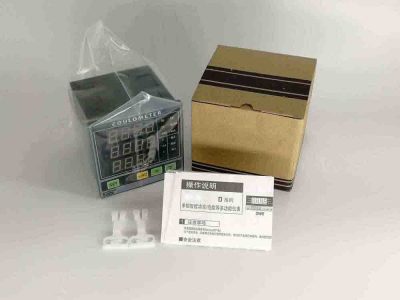 Model

CHD900

—

Single phase coulometer

Note

Power supply

Default

90-260V AC/DC

E

18-30V DC

Analog output

I

4-20mA or 0-10mA

default

None

AL1

R

Relay

S

SSR

N

None

AL2

R

Relay

S

SSR

N

None

Communication interface

4

RS485

2

RS232

default

None

Input signal

AV

AC voltage

2 inputs

indicate the range

AA

AC current

DV

DC voltage

DA

DC current
Power Supply:
85~265V AC  45~65HZ
or 18-30V DC
Consumption: <5VA
Rated voltage: 600V / PT
Rated current: 5A  / CT
Overload: voltage: 1.2 times(sustained); current: 1.2 times(sustained), 10 times/1second
Relay alarm output: 1~2 no.s, capacity: normal open 250V AC 3A or 30V DC 3A
Analog output: 4-20mA / 0-10mA
RS485 / RS232 communication interface
standard MODBUS RTU protocol
9600 bit/s fixed
Voltage: ± 0.5% ± 2 digits
Current: ± 0.3% ± 2 digits
Power: ± 0.5% ± 2 digits
Power factor: ± 0.5% ± 2 digits
Frequency: 0 ~ 250Hz ± 1Hz
Body: 96x96x84mm
Cutout size: 91+0.5 × 91+0.5 × 85mm
Mounting Method: Flush-mounting and screw terminals
IP grade: IP65 for the panel
1 x CHD900 single phase power meter coulometer
2 x Mounting brackets
1 x Manual