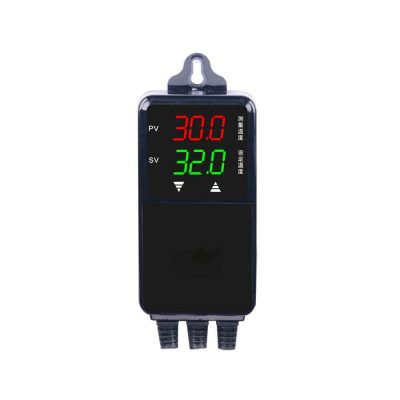 CL-609
Digital Thermometer for Aquarium, Terrarium & Homebrewing(Fish, Turtles, Aquatic Plants)
A combination of a sensor(NTC 50K), temperature controller & output socket. Plug-n-play design. This item helps you maintain a proper temperature for your pet reptile(fish, turtle, snake) in the terrarium, and as well as its health and its well being. On the other hand, it's suitable for Greenhouse, Defrosting, Seed germination, Chicken hatching, Aquarium, Home Brewing, Wine Making too.
Overview
Submerge the waterproof probe into the fish tank to measure water temperature. Easy to carry and convenient to use.
Integrated digital module LED display outlet thermostat, touch buttons, user friendly.
Dual display window, be able to display measured temperature and set temperature at the same time.
Heating and cooling mode switchable freely. Self-diagnosis of the temperature probe.  High/Low alarm mode is selectable.
5 multi-strand pure copper wire & high-power socket makes it suitable for air conditioning to keep the heating system running safely for a long time.
Plug-in type power supply, socket-type output temperature control system, convenient for users to use on different occasions, eliminating complicated wiring and maintenance.
Main Features
Power supply: 220V AC 50/60Hz
Sensor: 1 no.s of NTC 50K, range -40°C ~ 120°C
Support reading with Centigrade or Fahrenheit unit;
Temperature control mode: On/Off Control, Heating/cooling control
Alarm high and low temperature alarm, Buzzer alarm.
Main relay output capacity: normally open contact, 5A max. (recommend: cooling 0.5P or heating 800W)
Over-temperature and sensor fault alarm;
Delay time setting makes it safer for the compressor working.
"LLLL" or " HHHH" will be displayed in the PV window if the temperature probe is fault.
Ideal thermometer for aquaculture, hatchery, Fisheries, homebrewing, fermentation, beer/wine storage, aquarium heater/fans, greenhouse heat mat, heating pad, etc..
Just plug and play, easy to work!
Plug-n-Play Thermostat
No more costs on parts and tools…
No more time on wiring, cutting & mounting…​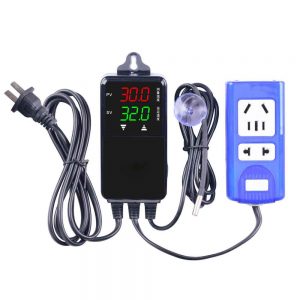 Input Power: 220VAC, 50Hz/60Hz
Temperature Control Output: Max. 5A, 220V AC
Input Power Cable Length: 1.5m (5ft) ​
Output Power Cable Length: 30cm (1ft)
Temperature Control Mode :On/Off Control, Heating or Cooling
Temperature Display Range: -40 ~ 120°C, resolution: 0.1°C(-9.9 ~ 99.9°C)
Temperature Control Range : -20 ~110 °C, resolution: +/-1°C
Sensor Type: NTC sensor (Including)
Sensor Length: 2m / 6.56ft ​
Storage Temperature: -20~ 60 ° C
Storage Humidity: 20~85% (No Condensate) ​
Socket main output: 800W max 220V AC
Relay contact capacity: normally open,  220V 5A AC
Buzzer Alarm: High and Low Temperature Alarm
Dimension Body: 115x59x30mm
Dimension Socket:
US Version: 85x42x24mm
EU Version: 135x54x40mm
UK Version: 140x51x27mm
AU Version: 112x46x27mm
Net Weight: about 400g
Gross Weight: 600g​
1 × CL-609 Digital Thermometer
1 × Manual