Overview
The digital infrared thermometer is designed for measuring the forehead temperature, with a dynamic offset for the ambient temperature and forehead temperature.
Highly clear LCD digital display with backlight
Fahrenheit and Celsius optional mode
Auto power-off function to save energy
Support the last 32 measurements memorization
Provide the function of sound notification of high body temperature
Lightweight and portable for use.
Built-in infrared laser pointer for precisely non-contact infrared measurement.
Wide utilization: estimating the surface temperature of an item, infant shower water temperature or milk temperature, and so forth. Contingent upon different skin types and thickness, there might be a temperature distinction, etc.
 Main Features
Place of Origin: China
Material: PP
Standard: GB/T19146-2010
RoHS/CE Certificate
Voltage: DC9V 6F22 Battery (not included)
Auto power-off: 10s
Quickly temperature measurement: ≤1s
Measuring Distance: 30 ~ 50mm
Indicate cell resolution: 0.1°C(0.1°F)
Repeatability: ≤ ±0.2°C
Number of memory group: 32sets
Range of measurement: Body temperature: 22°C ~ 43 °C (71.6°F ~ 109.4°F)             Surface temperature: 0 °C ~ 100 °C (32.0°F ~ 212.0°F)
Operating environment: 16°C ~ 40°C(60.8°F ~ 104°F)
Dimension: 90 x 43 x 148mm
Medical Grade Digital Thermometer
Protect your health intentively
Simple to use, quick recognition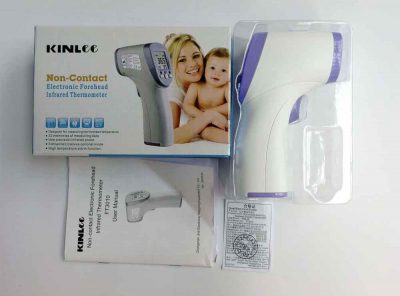 Temperature: 16 ~ 40°C
Relative humidity: 15%~ 95%RH
Atmospheric Pressure: 860 ~ 1060hPa
Power supply: DC 3V (2×AA 1.5)
Ambient temperature: -20°C ~ 50°C
Relative humidity: 15% ~95%RH
Atmospheric pressure: 860 ~ 1060hPa
Body temperature: 22.0 ~ 43.0°C (71.6 ~ 109.4°F)
Surface temperature: 0 ~ 100°C (32.0 ~212.0°F)
22.0 ~ 42°C: ±0.3°C
<22.0°C: ±0.5°C
>42.0°C: ±0.5°C
High-temperature alarm: Hi on the screen
Low-temperature alarm: Lo on the screen
Net weight: 100gram( not including the batteries)
Gross weight: 11.2kg /CN
IP grade: IP22
Body: 90x43x148mm
Box: 162x50x106mm
Carton: 54.5×34.5×34cm
Pack: 60pcs per carton
1 x FT3010 Electronic Forehead Infrared Thermometer
1 x Qualified Certificate
1 x Warranty certificate
1 x Manual