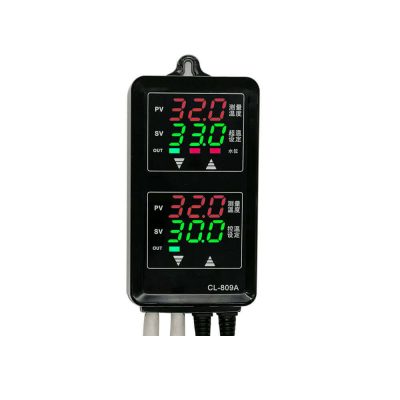 CL-809
Outlet Aquarium Thermometer Temperature Controller
Pre-wired electronic heating/cooling thermostat temperature controller for fish tank, turtle tank, water, reptile terrariums. 10A  double sockets thermometer with dual probe( waterproof). Widely used in Aquarium, Seed Germination, Reptiles, Hatching, Homebrewing, Fermentation, etc..
Overview
Dual Group Display Window: display the temp of the main control and over-temperature protection at the same time.
Two Probes: Your fish might be in danger as it is hard to know the probe is broken immediately if the temperature controller has only 1 probe. The dual probe aquarium temperature controller will alarm if the temperature difference between 2 probes is bigger than 1/2℃, and the window displays "EH", buzzer alarm, and it will close the output shortly.
Dual Protection: The aquarium temperature controller is equipped with 2 relays to ensure that the power can be turned off under any circumstances, this will protect your fish from being hurt by overheated water.
Plug and Play design: Plug-in type power supply, socket-type output temperature control system, convenient for users to use on different occasions, eliminating complicated wiring and maintenance.The 800w high-power aquarium temperature controller is compatible with most kinds of heaters, you don't need to assemble the product yourself, just plug and play.
Heating/ Cooling preset: The Self-diagnosis of temperature probe.  High/Low alarm mode selectable.
Audible Alarm: High and Low temperature alarm is available when the temperature is over or the sensor is with an issue.
Main Features
Power supply: 220V AC 50/60Hz
Sensor: 2 no.s of NTC 50K, one is control-temperature probe, the other one is over-temperature probe
Support reading with Centigrade or Fahrenheit unit;
Main relay output capacity: normally open contact, 10A max. (recommend: cooling 0.5P or heating 800W)
temperature Control Mode: On/Off Control, Heating/cooling control
Over-temperature and sensor fault alarm;
"LLLL" or " HHHH" will be displayed in the PV window if the temperature probe is fault.
Alarm high and low temperature alarm, Buzzer alarm.
Ideal thermostat for homebrewing, fermentation, beer/wine storage, aquarium heater/fans, greenhouse heat mat, heating pad, etc.
Easy to work, make life easier!
Plug and Play, User Friendly
Your Guardian for your Aquarium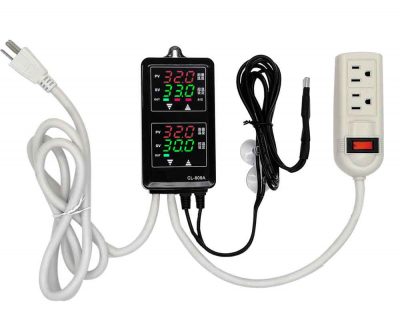 Input Power: 220VAC, 50Hz/60Hz
Temperature Control Output: Relay, 2 no.s Max. 10A
Input Power Cable Length: 1.5m (5ft) ​
Output Power Cable Length: 30cm (1ft)
Control Temperature & Over temperature alarm
Temperature Control Mode :On/Off Control, Heating or Cooling
Temperature Display Range: -40 ~ 120°C, resolution: 0.1°C(-9.9 ~ 99.9°C)
Temperature Control Range : -20 ~110 °C, resolution: +/-1°C
Sensor Type: NTC 50K sensor (Including)
Sensor Numbers: 2 no.s.  One is for controlling temperature output, the other one is for over-temperature alarm.
Sensor Length: 2m / 6.56ft ​
Storage Temperature: -20~ 60 ° C
Storage Humidity: 20~85% (No Condensate) ​
Socket main output: 800W max 220V AC
Relay contact capacity: normally open,  220V 10A AC
Buzzer Alarm:
High and Low temperature alarm
Over-temperature alarm
Abnormal heating alarm
Water level protection alarm
Dimension Body: 137x75x40mm
Dimension Socket:
US Version: 85x42x24mm
EU Version: 135x54x40mm
UK Version: 140x51x27mm
AU Version: 112x46x27mm
Net Weight: about 600g
Gross Weight: 700g​
1 × CL-809 Outlet Thermostat Temperature Controller
1 × Manual